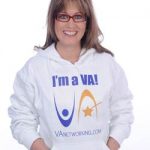 Ever wish you could start your own Virtual Assistant business? Wish a knowledgeable veteran Virtual Assistant would share the secrets to starting a thriving business? Wish all of the tools you need could be found in one place?
Well, wishes really do come true when you have the Virtual Business Startup System (VBSS) written by Tawnya Sutherland, a virtual professional and Certified Internet Marketing Virtual Assistant. Tawnya has made it so easy by placing everything you might need right at your fingertips. Now you, too, can experience the thrill of operating a home-based business.
"This globally proven, acclaimed business startup system and instruction by The VA Expert, Tawnya Sutherland,
is designed specifically to get your Virtual Assistant business up and running easily, quickly, without the stress of doing it from scratch in just 30 days.

Not only will it keep you well-organized and motivated, but you will also have the best and most comprehensive VA toolbox available online today to build, maintain, and grow your business in just 30 days. IN ADDITION you will have a Veteran Virtual Assistant (Veteran as in VA work experience, not VA work wrinkles, I do daily use Oil of VA … you know?) to help guide you and keep you on the straight and narrow path to success, and away from the rocky waters and mud holes of failure!"
"Eighty percent of success is showing up". ~ Woody Allen
Like Woody Allen says, showing up is 80% of what it takes to be successful. So now that you are here, let's get moving on your successful journey…
The VBSS comes with a 100% satisfaction guarantee – if you're not happy after trying it for 45 days then you will get your money back. Put it into action and see for yourself!
You really can have your dreams. Ready to grab yours?

ps…Tawyna has free resources also! https://www.vanetworking.com/free-stuff/
**This post contains affiliate links**