Where h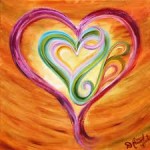 as all the Customer LOVE gone? 
What has LOVE got to do with it anyway? Well—Everything!

Have you experienced Customer Love? How did this feel? Did it make you feel warm and fuzzy?  It is wonderful when we get treated with true Customer Love right?
When did you last receive an honest-to-goodness hand-written thank you note in the mail from your favorite department sales-person, your hairdresser, or your Avon sales lady?
On the flip side, have you wondered if customer service was a lost art or skill? Like that time when you were shopping for a pair of shoes and you asked the sales-person for help, and you were treated like you were inconveniencing them? (yeah like totally)!
I have had both of these experiences. And let me tell you, opening that hand-written card made that shopping experience the most awesome shopping experience ever! I still remember it like it was yesterday! That was the 1st big step in deciding I wanted to create a business focusing on good customer love.
How do you show Customer Love?  In follow-up with your clients & customers? Or at the store where you work? What sets you apart from the next person?

I created this website for a place to share tips and ideas I have found that work (or don't work) , plus loads of tips from our top industry leaders.  Yep, kinda like being a curator of Customer Love.

 Oh, and how are you interacting with your clients and customers on your social media platforms?  Are you showing customer love there also? There are just so many aspects of Customer Love!

Let's get this conversation going! lol. You jump in next okay? I know I am talking alot…

Did I mention it's all about Customer LOVE? LOL, yep..like a zillion times already right?
After all, our goals are to have happy clients, customers and people in our life, right? Showing Customer LOVE will do this! (cause it does spill over in all areas of our life, right?)
READ MORE here on my bloglove…
Blessings and talk soon….