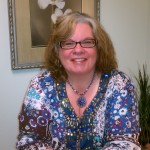 Since 1974 (yes. in High School), Annette has been in LOVE with CustomerLOVE (customer service), sales and marketing.As long as she  her memory can remember, she has taken pride in taking care of customers, clients, and employees, and has always been a stickler for follow-up! (ask anyone she knows!)
The combination of heart, keeping up with the current interaction online socially (boy has that changed!) and her people skills associated with make sure a customer/client is completely satisfied sets Annette apart as your partner.
Her clients are from all walks of life. Authors, Coaches, Music Industry, Online Piano Lessons, and more… She is plays a crucial part in helping her clients show CustomerLOVE! Using email and snail-mail marketing, contact management and leveraging, engaging on social networks, managing WordPress sites, and many other support roles to clients remotely.
"I strongly believe in my clients visions and work to become a vital part of their business virtually and helping it to grow as big as they chose."
In the best and most challenging of times, Annette's passion for CustomerLOVE is why she earned a Peak Award from her Peers in one long-time Corporate position, and why she increased customer loyalty in an automotive service department in a slow economy.
Her background in CustomerLOVE is very diversified! Automotive Support, Co-Owing and Operating a Cattle Ranch and Small Trucking Firm, and Client Satisfaction Surveys, as well as Customer Loyalty.
Annette came from a successful client services professional background of over 25 Corporate years, taking her experience and knowledge Virtual in 2010.
When Annette is not working with her clients as their right-hand-partner taking care of the little details in their business or with their social networking; you will find her re-organizing her apartment, studying more social media resources, taking online business classes & courses,  and reading novels that take her far away into other worlds! Oh and yeah..taking care of her two  adorable adopted pet  bunnies!
As you can see, Annette has a passion for both client relations and client satisfaction (CustomerLOVE) which we believe is essential for every business! She operates with a high level of integrity and combine these talents and more, in partnership with clients, to increase their productivity.
****PRIVACY POLICY—-REST ASSURED!
People are feeling insecure about the Internet, etc., with cases of identity theft and those marketers who sell private information and don't provide a secure environment."You and your clients' information are safe in doing business with me. For signatures…You will provide me your NDA, I  will provide you a privacy policy and payment contract to you."  ~ap
Annette Pedersen
750 Cascade Street. Apt. 317
Oregon City, Oregon
503-406-8229
E-mail: annette@annettescustomerlove.com
Let's schedule a phone consultations and go brainstorm! Click here.