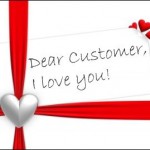 Do your customers know they are  appreciated?   What are you doing to boost your customer loyalty and appreciation, showing your customer love?
Customers want to be heard. They also want to know that you will do something about any complaints they may have. Take some time to read your support requests, Twitter mentions, and Facebook talk. Interact often. Be present in your social networks. Not pushy but always there to lend a hand.
Maybe your customers want to choose how often they receive your "Tips and Tricks" newsletter? Ask them. Do a survey. All you have to do is find the right balance.
If you are launching a new product that will demand more support from your team, be prepared to offer that. Never ignore your customers, it will surely come back to bite you.
Send out  just a simple recognition that you appreciate their business. Whether it's in the form of a discount or a simple email that says, "Hey! We appreciate you!"  Show your customers some love!
How do you show customer love? Comment below and share with us.