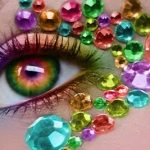 Do you create visibility for you? Creative,colorful, unique, only you visibility?
Did you know that in today's really busy world, your prospects need to see your marketing message up to twenty-seven times before they even notice you. That's why it's is important to create create a Huge presence in a variety of marketing places!
If your prospects view your Tweets, Facebook updates, YouTube video, LinkedIn information, or read your online articles–They can't help but pay attention to you. You want your prospects to ask, "Wow, she is everywhere! Who in the world is she?" Once they ask themselves this question, the natural next step is for them to find out more about your small business.
What is your visibility saying about you? Are you everywhere?
Comment below…share what you are doing!