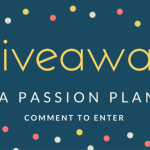 What? A giveaway to win a Passion Planner? Who doesn't want to have a cool unique planner and more for 2017?  Writing my goals out in pretty colors in my planner is what I do for fun! lol.  The 'ole digital tasks and calendars are boring, don't you think?  Read all about this not your plain 'ole planner here!
A colleague of mine Crissy Herron at this kick-butt work at home tips and tricks website… Indiebizchicks is having this awesome giveaway!  Oh and check these awesome planners out for your after Christmas gifts to family and customers……Passion Planner
So—-Get on with your planning girl! Whatcha waitin for?  …Go here. Go now!
Oh ..and you can plan out more of your customer love goings on these cool pages!
Happy Holidays!