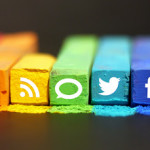 How do I stay in front of my customers on Social Media? Here are a few ideas that will totally help!
1 – Maintain an engaging presence on social media.
If you don't already have an account for your business on Facebook, Twitter, Instagram, Linked In or Pinterest. So go do it now 🙂 Being active on social media not only lets you chat with your customers and attract new ones. Put yourself out there!
2 – Know your customers
Follow up after a sale….send a FB message or email them. What do they think of the candle or makeup, or pair of cool shoes they just bought?  Let them know you're available to chat if they have any questions. After all …you are interested in more than their money, right?  Send a Birthday Card, Thank you Card...any kind of card (well you know what kind of card not to send…..)
3 –  Ask questions, Ask for feedback, Ask them for their advice, Take them to lunch, Give them a ring…..(no not that kind) …
Now tell us,  what are some ways that you stay in front of your customers?