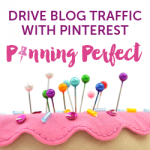 Guess what? I just got word…
Check it out….
"$884.50 billion in seasonal spending is predicted for 2016, and people on Pinterest are likely to spend 2x more than non-Pinners do on their holiday shopping"
Is that exciting or what? Oh My Gosh right? So to hone our skills I found an awesome Pinterest Course by a colleague of mine that you will love! *(this is an affiliate link)*
Like this post…Awesome..Please share with your friends
Then let me know when you start doing this on a daily basis, ok? – I'd love to hear from you!