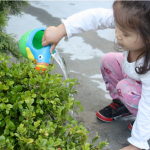 Once upon a time in the not so distant past the sales departments in our companies kept track of "sales leads" and contacted them alot on the phone. Maybe you got some of those calls?
In comes Nurture Marketing!  It's been on the scene a few years and it goes hand in hand with Customer Love, and in the order of things..it comes 1st! Nurturing your prospects.
Instead of having an aggressive salesy approach or making those sales calls, With nurture marketing, it's more of a "we are here when you need us and we will stay in touch" kind of feel. And it does work wonders!  We all love to be thought of and swooned in an awesome way right? It's all about taking that one initial conversation and then having casual short conversations or "touches" with your prospects.
Nurture Marketing is the art of staying in front of your prospects, be it your potential customers or clients. Those people who are interested in what you have to offer, but just are not quite ready to take the leap. So your job is to stay in front of them by gently nudging them along with a series of a flow of messages which provide great timely content. It's like filling the gap between the "interest" and "I am ready to buy."
Start a series of "touches" for 3-6 months. One every 2 weeks or so. It can be an email series designed to get them acquainted with you and you them. Ask them one question so they will respond back to one of your emails. You can share your social networks. Share an article about their industry. Invite them to podcast. An invitation to see a product demo.  You get the idea.
If you are reading my blog and social networks, I assume y0u know my favorite way is the doing the same # of touches but in card fashion. Send Out Cards to be exact! Sending a small gift out with one. This way of nurture marketing works so well because they get something in snail mail they can look at every day maybe on their desk. Simple and very powerful!
If you would like to brainstorm, reach out! I would love to hear from you on what works for you!
Like this post? Awesome! Please like, comment, and share with your friends!