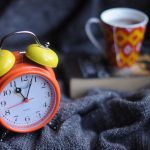 Time Management is Not About Accomplishing Everything on Your To Do List
I recently read from one of my favorite writers Maria Garcia about time-organization. She has great tips:
The process of making lists is crucial to effective organization. If it's not written down, it's bound to be forgotten.
But, so many people get frustrated and overwhelmed when they look at all the tasks on their To Do lists. They wonder how they'll ever be able to accomplish so many things.
Believe it or not, time management is NOT about accomplishing everything on your list of things to do.
It's really about looking at your list of things to do, and determining if those things are important enough to do in the first place.
For example, ask yourself if it's really important to you to drive all the way over to another supermarket, just to save 35 cents on bread. That 35 cents is surely going to be spent on fuel anyway, and look at the time that is being wasted.
Or, is it a good use of your time to cut out and file magazine articles? For some people who reference their saved articles regularly, it certainly may be a good use of time. But I know people who just cut out articles, file them, and NEVER go into those files again.
We only get 24 hours each day. Think wisely before using them up, because once they're gone, they can never be retrieved again.
Maria has wonderful programs to get you going in any area of organization! Check them out at www.getorganizednow.com