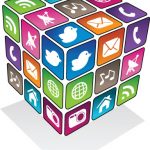 Yes, yes— I know, too much information all over out there on the subject of social media…but why you ask??? Cause it's SO important in today's world! So I am going to talk about it one more time….bear with me!
Social media can be an effective marketing strategy if used wisely. Some self promotion is expected, However, the majority of your social media posts should be engaging with your audience and providing valuable information for your potential clients or customers. There is the 80/20 rule that applies here.  Post 80% valuable tips and tricks,  and yes…even humor! Get your peeps talking!  Only post 20% about promoting your product or service is some way.

And  then there are our blogs.  Keep them very search engine friendly and again, observe the 80/20 rule. It should also direct your readers to your website. Many of us have a blog inside our website.

Short blog entries make great ezine content. Include a paragraph from your blog in your newsletter with a 'read more' link that takes your readers to your blog.
Twitter Tips
Twitter has so many uses as you already know..but here are some more:
Post quick tips, quotes or a catchy sentence or phrase from your book or speech. Include a link back to your website.
Again the 80/20 rule for Social Media and engage your followers! You can educate and give tips with valuable information to your prospects and clients so that they turn to you as the expert in your business.
Post links to specific blog post or to your newsletter sign up page.
Have your Twitter posts automatically feed to your Facebook page and widen your exposure.
Watch the Direct Messages you receive and any @ messages. Try to connect with these people and start building relationships. Engage!
What unique way do you use social media?