Where h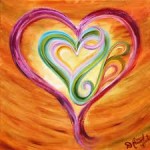 as all the Customer LOVE gone? 
What has LOVE got to do with it anyway? Well—-ALOT!

Have you experienced Customer Love? How did this feel? Did it make you feel warm and fuzzy?  It is wonderful when we get treated with true Customer Love right?
Have you actually received an honest-to-goodness hand-written thank you note in the mail from your sales-person, your hairdresser, or your direct sales lady?
OR..have you ever had an experience as a consumer that just made you wonder if customer service was a lost art or skill? Have you ever been shopping for a pair of shoes and you asked the sales-person for help, and you were treated like you were inconveniencing them? (yeah like totally)!
I have had both of these experiences. And let me tell you, opening that hand-written card made that shopping experience the most awesome shopping experience ever! I still remember it like it was yesterday! That was the 1st big step in deciding I wanted to create a business focusing on good customer service.
A good friend of mine, who was also a client, friend, and my hypnotherapist…Robin Hart… years later suggested I call it Annette's Customer Love.  And the name was born. 
So….what do you say about bringing back more Customer Love, mainly in follow-up to all of our clients & customers? Are you in? Oh and as a plus….stay in touch more with your friends and family. 
I created this website for a place to share tips and ideas I have found that work (or don't work) , plus loads of tips from our top industry leaders.  Yep, kinda like being a curator of Customer Love.
Let's get this conversation going! lol. You jump in next okay? I know I am talking alot…
Okay so I am going to honest here. I have not always been good customer follow up. Or even at sending a card to my family or friends on their birthdays, holidays, or just because. I have used many ways though the years all took alot of time and energy and yes sometimes I forgot. I didn't want to just send an
email…I wanted something better….

And you guessed it!  In dropped one of the best tools ever! Send-Out Cards. It opened up all sorts of awesome ways to

stay or get in touch.
It's like an online card creator with tons of awesome choices, but it goes a step further and does all the stuffing, stamp licking, addressing, and taking them to the post office for you! With a built in contact manager and reminder system, you can't go wrong. Oh! And there is a very cool Mobile App which makes it so much easier to send a card from anywhere quickly! You will love it!

There are so many aspects of Customer Love, right?

Things like creating campaigns from your newsletter list card campaigns with Send Out Cards, Facebook specials given to your VIP members and everything in between. All of which help you get in front of more leads and prospects, and help you keep in touch with your current clients and customers. You can followup with the person who last bought from you 2 months ago.  You can take the opportunity to up-sell your services of let customers know of your new products.
Oh, and how are you interacting with your clients and customers on your social media platforms?  Are you showing customer love there also? 
Please come join me here with interaction and appreciation for each other and our customers. Together we can bring back more Customer Love to the world!
Did I mention it's all about Customer LOVE? LOL, yep..like a zillion times already right?

After all, our goals are to have happy clients, customers and people in our life, right? Showing Customer LOVE will do this! (cause it does spill over in all areas of our life, right?)
READ MORE here on my bloglove…
Blessings and talk soon….