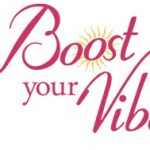 With everything you have to do in a given day, it's easy to fall into the non-stop trap. This is when you're doing nothing more than chores, working, errands, cooking–after a while, you're exhausted from this never ending hamster wheel you're on. No matter how busy you are, you should always make time for yourself. After all, life isn't about living to work. Rather, it's about working to live.
By doing this you can Boost Your Vibe!
Schedule a minimum of an hour per day to do something for yourself–something you really enjoy. Enjoy a hobby, like quilting or gardening. Take a walk out in your favorite park. Finishing reading that book. Take a long bath filled with lavender essential oil and bubbles, plus a warm soothing candle. Listen to some uninterrupted music. Whatever it is, this hour per day will help you to unwind, decrease stress and more fully enjoy life. You deserve it.
Your Vibe will my very much boosted! Has this worked for you?
Article adapted from: